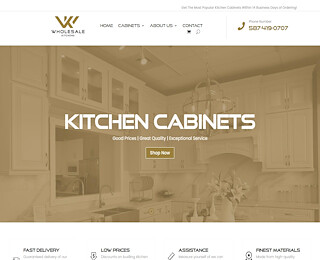 The kitchen is unarguably the most used room in the house. Therefore, this space should regard traffic paths, storage options, and work areas. Cabinetry is one of the distinguishing features of a kitchen. It lends a lot to the overall aesthetic and should offer substance and style in equal doses.
Importance of cabinetry
Kitchen cabinets are essential for storage and functionality. They make food storage and preparation quick and efficient and offer safe places to keep your assortment of utensils, cutlery, and cookery. They effectively declutter the kitchen space, making it feel homely and inviting despite the many items in storage. Tastefully done kitchen cabinet designs transform the look and feel of the room. They automatically draw attention to themselves. It underlines the importance of creatively selecting suitable designs to match your home's space and overall décor style.
When remodeling a house or creating one from the ground up, you need a reliable partner to make beautiful, high-quality cabinets. We are an established manufacturer with many kitchen cabinets for sale. We have distinguished ourselves through our quality with many years of experience and an ever-growing list of satisfied customers.
Why Choose Us?
We offer customized service. We understand that our catalog designs might not match your tastes. We invite customers over or do in-house consultations and work together to realize the kind of cabinetry that is perfect for you. Our consultants are highly professional and answer all questions effectively and adequately. We offer free design services if you do not already have a plan.
We are very flexible with the design. Our kitchen cupboards on sale showcase our design language, but they do not imply rigidity. We welcome new ideas for cabinets not only for kitchens but for other spaces such as bathrooms and offices.
We offer competitive prices and are cheaper than big box stores and showrooms by a considerable margin.
We are detail-oriented. We accept every order regardless of scale or complexity. We handcraft each wooden piece, ensuring durability and ease-of-use are not compromised even in our ready-to-assemble options.
Thanks to our dedication to quality, you get the best in the market when you buy kitchen cabinets from us. We are certified and adhere to all quality guidelines. Our compliance in fabrication and installation carries in all our completed projects that last for a lifetime.
We believe in our craft and offer a lifetime warranty on all our products. It covers the hardware, the hinges, drawer glides, warping or peeling in any panels, doors, or drawer fronts.
We have a turnaround time of up to four weeks for all our orders for all materials, including oak kitchen cabinets. Custom products take longer to manufacture, but we strive to deliver within this timeline.
We deliver all our cabinets. We guarantee that your cabinets will arrive in pristine condition by offering this service. We do installations or connect you to a professional installer if you are out of our service area.
Transform the look of your kitchen with cabinets from Wholesale Kitchens. Please call 587-419-0707 or visit our website to order.